Number 10 Blog Tour – C.J. Daugherty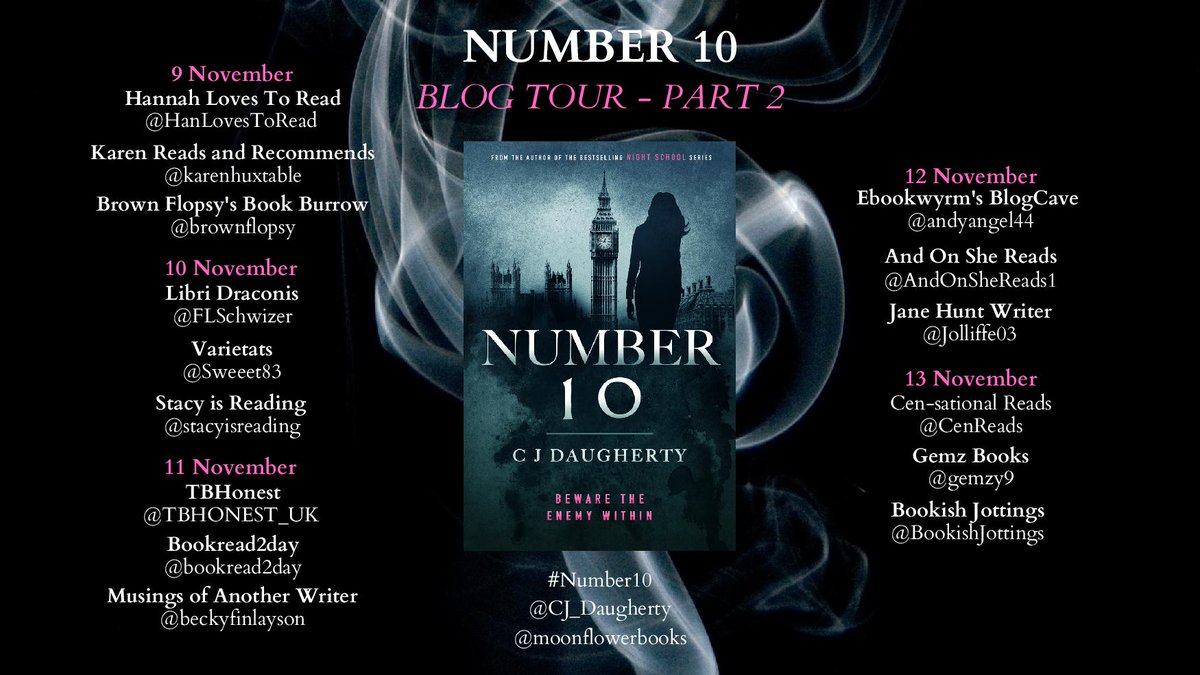 Today I'm excited to welcome you onto my stop on the blog tour for Number 10 by C.J. Daugherty. This Gossip Girl meets Russian spies meets murder mystery is intriguing and entertaining – not least for all the entertainment the name Gray caused in the Discord server (shoutout to the Fantasy Inn Discord!). Set in the eponymous Number 10, Downing Street, the British PM's teenage daughter works with her friends to try and save her mother from an assassination attempt…
There is also a fancy book trailer, which I've embedded below, premiering today for the book's release, check it out!
Massive thanks to Midas PR and Moonflower Books for inviting me to the tour and sending me an ARC of Number 10. All opinions are my own.
STAR RATING: 4/5 ✶
PUBLICATION DATE: 10/11/20
SUMMARY: Gray Langtry's mum is the UK's prime minister. Gray just wants life to go back to normal – no more bodyguards, no more paparazzi, just being a teenager. But when a wild night out is spread on the tabloids, she is grounded at Number 10. Exploring to pass the time, she finds underground tunnels leading her to the government buildings, where she overhears details of a plot against her mother. She is determined to prevent this from succeeding. There's just the tiny problem that she doesn't have any proof and time is running out…
OPINIONS: I thoroughly enjoyed Number 10. Probably more than I was expecting to, to be honest. It was exactly the kind of political-themed relief I needed after a week of worrying about real-world politics. More than anything it reminded me of a thoroughly British version of Gossip Girl, with less teenage bickering and more actual intrigue to solve. And I adored that back when I was a teen myself.
While Number 10 does rely on a number of tropes, the characters are well-realised teens that come with their share of issues and flaws. It is a well-written book, compelling throughout and clearly written straight for the intended audience. I did think the coincidence of Jake being who he is and being the exact same age as Gray was a bit much, but so is fiction. I really liked Gray's best friend, Chloe, as well. The adult characters were not quite as fleshed out, and would have benefited from some additional scenes – the book is quite short at just about 250 pages, so there would have been scope for a bit more detail.
I could see Number 10 working well as a TV series adaptation, it is that kind of book. It is not a deep intellectual read, but compelling and fun, entertaining, with charismatic leads. If you are intrigued, add Number 10 to your Goodreads here, and order a copy via Amazon here.